The Swiss daily newspaper Blick is a pioneer in text-to-speech with Amazon Polly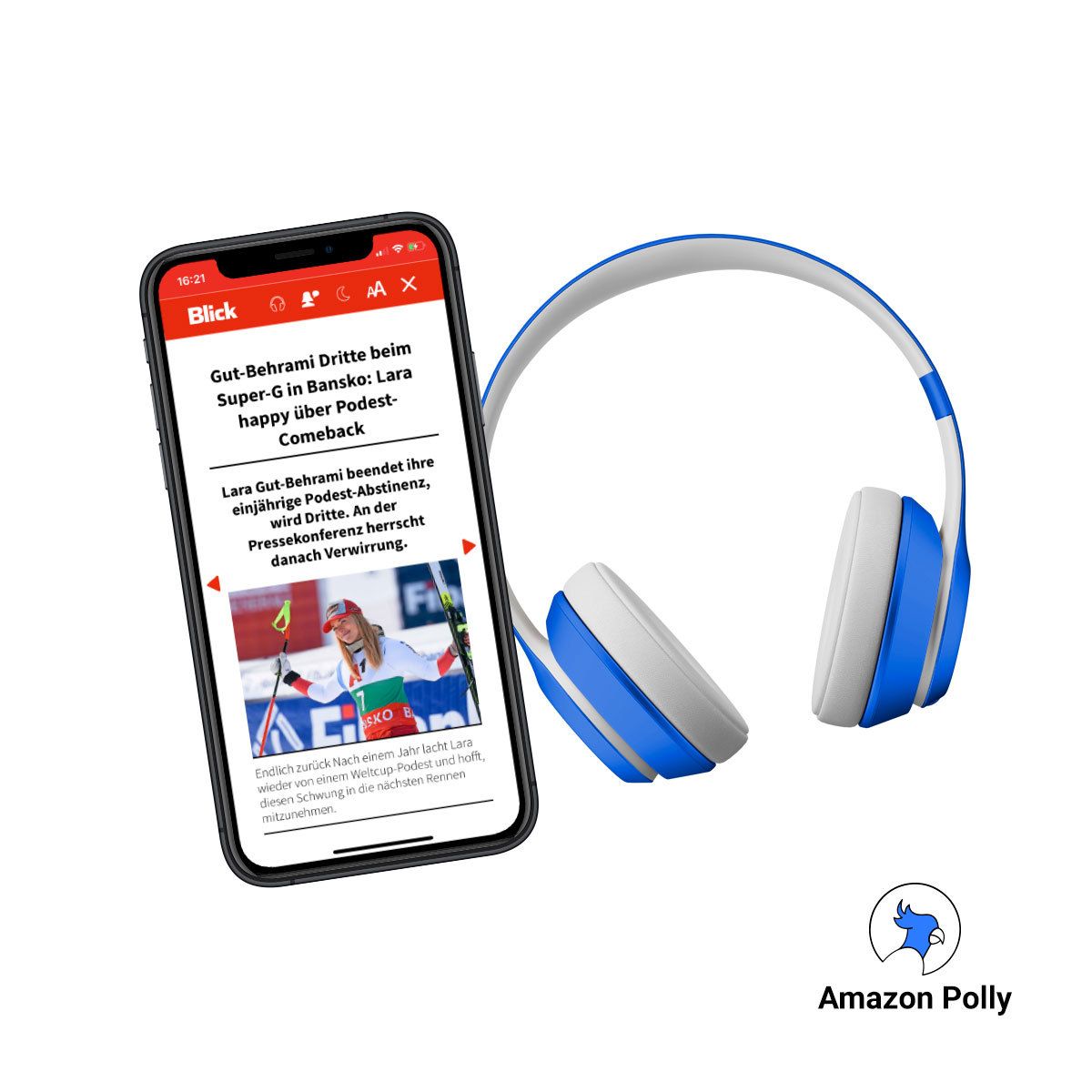 Ringier is a media company active in several countries with titles such as Blick, BILANZ and LeTemps.
Magazine Publishing Software for Publishers
Blick is a German-language Swiss tabloid daily newspaper published by Ringier. SonntagsBlick is the corresponding Sunday newspaper. Blick is characterised by many short articles and is known for communicating content in a clear, concise and simple language. Thus, readers can quickly get an overview of the day's events without having to read deeply into individual topics. In addition, the sports section remains as popular as ever.
Ringier as a pioneer with Amazon Polly
With regard to Amazon Polly, Ringier is one of the pioneers. The publisher is completely in line with the current trend. According to a recent study by Infinite Dial, users consume an average of 17 hours of audio per week. So it is not surprising that the new feature was very well received by Blick subscribers. Amazon Polly currently offers three German voices: likeable Vicki, eloquent Marlene and experienced Hans.
"In our e-paper, our customers can now have all articles read out to them by Hans and Marlene. That's really great. We have received a lot of positive feedback on these two voices", says Jacqueline Schraner, Project Manager Subscription and Online Marketing at Ringier Axel Springer.
Amazon Polly 

is

 different
Amazon Polly is the most exciting development in text-to-speech. Essentially, it is the creation of artificial speech from the written word. Amazon offers dozens of lifelike voices in different languages. You can read more about Amazon Polly in our blog article.
To be clear, this isn't exactly a new technology. Text-to-speech has existed for more than two decades. Nevertheless, it hasn't yet caught on in mainstream media because of its historic lack of natural and realistic modulation.
With Amazon Polly this has changed abruptly. Compared to other providers the technology behind Amazon Polly is very mature. "We are always amazed how good the voices sound. The voices sound very human and natural", says Sarah Blum, Senior Project Manager Technology at Ringier.
Amazon Polly even manages to automatically distinguish between questions and answers in a text. Sarah: "I still find it remarkable how clear the difference between the emphasis of the question and the answer is in text-to-speech. You can clearly hear a different emphasis. That's my absolute highlight."
Outstanding agility in project management
When implementing text-to-speech, progressive loading was very important to Ringier because they wanted the app to also work well for readers in rural areas where only 3G might be available. With Progressive Loading, users can start reading content while it is being downloaded.
SPRYLAB works flexibly with agile methods and can therefore react to changes in the market at any time. "The project was really very agile. We chose a Scrum approach that worked really well", says Sarah.

"Thanks to SPRYLAB we have a showcase at Ringier that demonstrates how we can do agile project work."
User-friendly app with Amazon Polly
Amazon Polly works in apps even when the screen is locked and thus offers users complete flexibility. When using Amazon Polly with the screen unlocked, users can follow which part of the text is currently being read aloud.
The Blick and SonntagsBlick apps offer their users not only the innovative read aloud function of Amazon Polly, but also other user-friendly features that make reading in the app a very pleasant experience.
Here you can find the top 5 features. 
Ringier has opted for the male reading voice "Hans" and the female reading voice "Marlene". Users are free to swap between the two at any time.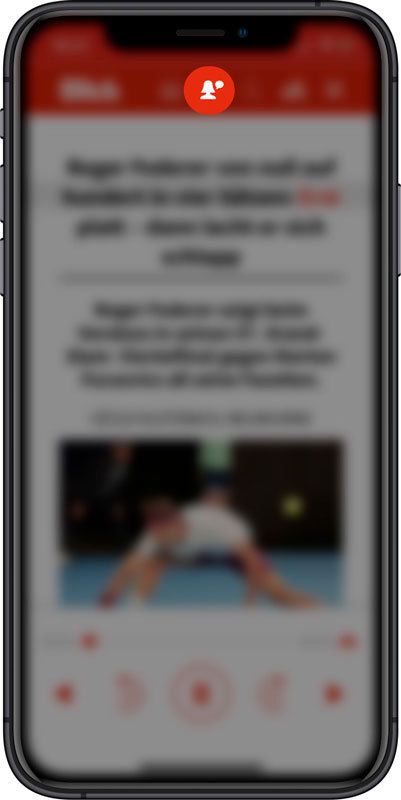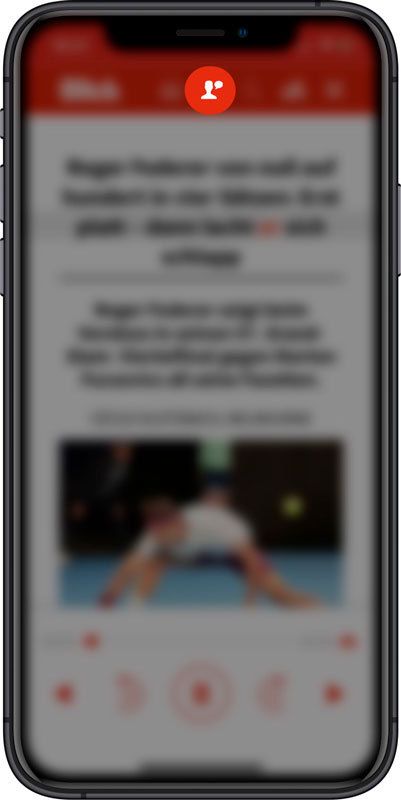 2 Reading speed adjustable
Readers can adjust the reading speed in the player. So the text can be read out fast or slow.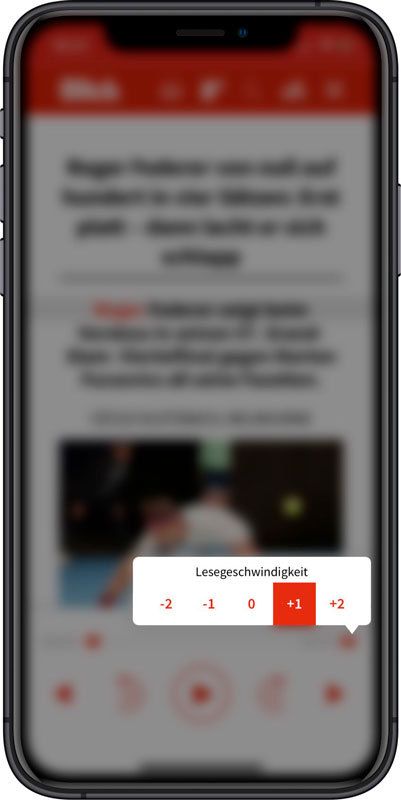 3

Amazon Polly also available on the web
All features of the app are also available in the Blick Online Kiosk on the web. Users can also benefit from all the text-to-speech features on their laptops.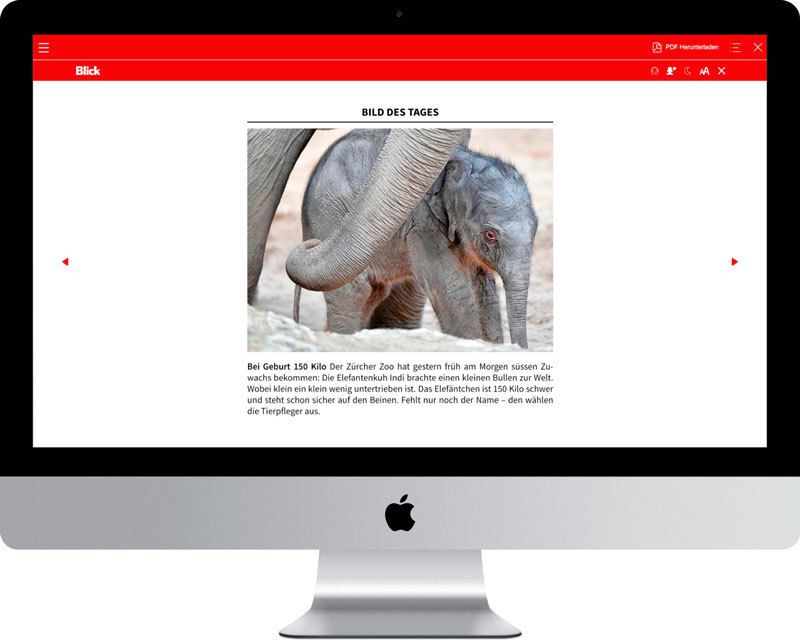 4

Intuitive switching between PDF and article view
Readers can switch between the PDF magazine and the article view optimised for digital reading with a single click. In this way, the elaborately created print magazines are not lost in the digital edition.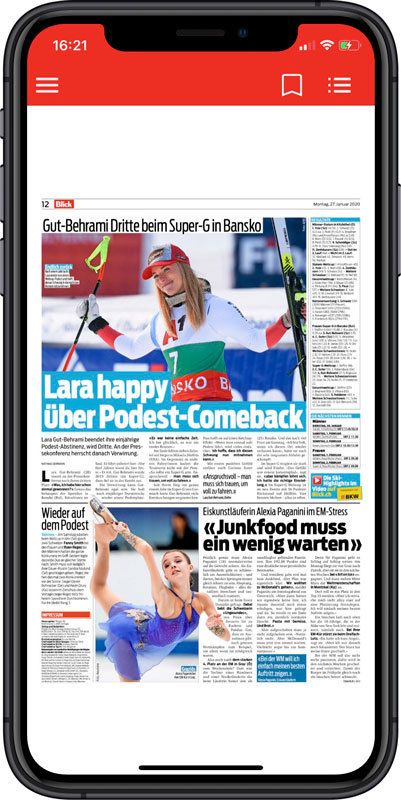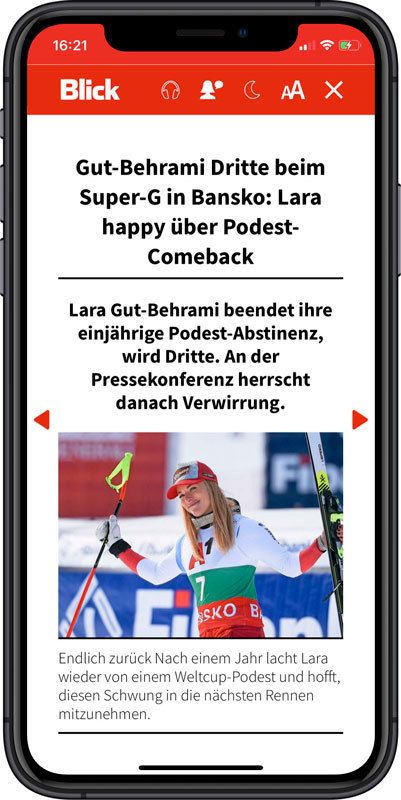 Readers can also switch to Dark Mode. Dark mode not only consumes less power, but also puts less strain on our eyes. The use of Dark Mode is especially useful in the evening.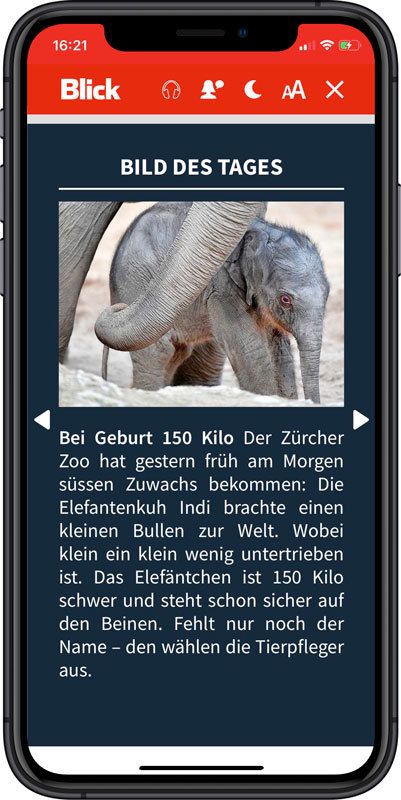 Real partnership instead of standard customer relationship
Ringier is already a long-standing partner and uses the app publishing solution from Purple DS. Schraner: "Despite the physical distance from Zurich to Berlin, a real team spirit has emerged."
At every step, SPRYLAB's Customer Success Team made sure that everything went as planned. "After going live, our Customer Success Manager even looked at the app at 04:00 a.m. to make sure everything was working well. That's something you can't expect as a customer, but SPRYLAB just did it", says Jacqueline.

"The SPRYLAB team was always there for us. The team gave everything. Thus the project was a complete success."
It is extremely important to SPRYLAB to provide customers with new incentives and to challenge ideas from time to time – that's what real teamwork is all about. "The SPRYLAB team does not passively wait for instructions: We have been properly challenged. That's great, because that's how the best ideas are born. Super teamwork", says Jacqueline.
Would you like to learn more about Amazon Polly? Take a look at our free on-demand webinar on "How Amazon Polly is Changing the Digital Publishing Industry".
Read more inspiring success stories
Find out how Purple DS can help your company. 
We want to hear from you! 
Find out how Purple DS can help your company.